[et_pb_section fb_built="1″ _builder_version="3.22″][et_pb_row _builder_version="3.25″ background_size="initial" background_position="top_left" background_repeat="repeat"][et_pb_column type="4_4″ _builder_version="3.25″ custom_padding="|||" custom_padding__hover="|||"][et_pb_text _builder_version="4.9.7″ background_size="initial" background_position="top_left" background_repeat="repeat" hover_enabled="0″ sticky_enabled="0″]
Lighting Up Eternity – City Women and Van Gogh
After a long haul through pandemic restrictions, our summer City Women meeting "with a difference" focused on Van Gogh's art and spirituality for inspiration. "Lighting up Eternity in the Midst of Work and Life: A time of visual and verbal reflection based on the life and work of Vincent Van Gogh" explored his vibrant paintings, which can inspire us to notice glimpses of eternity in the midst of our own work and life in 21st century Birmingham – whether working from home or in the city centre. It was 20th century theologian Henri Nouwen who described Van Gogh's life and work as "lighting up eternity in the midst of life", through Van Gogh's path from art dealer to missionary to painter.
Our session was led by two art practitioners, both with extensive experience of leading workshops on art and spirituality and both trained in spiritual accompaniment. Becky Morse-Brown is an art psychotherapist who has worked in a range of health, social care and charity sector settings. Gillian Lever is an experienced abstract painter who often experiments with the spiritually charged languages of colour and light. They offered reflective space, in the heart of the working day, offering "slow time" to feed our souls. Van Gogh's paintings are imbued with a reverence for the natural world, a deep empathy for his subject matter and a seeking of love and of light. He lived authentically, creatively and above all compassionately. He encourages us to feel and live from our heart, if we are to express feelings in our work, saying, "To live, work and love are actually the same thing".
Van Gogh encourages us to draw on actual observation and personal experience. His sister Elizabeth noted, "with a thousand voices nature spoke to him, while he listened with his soul". Henri Nouwen said, "In the midst of darkness he saw light. In the midst of ugliness he saw beauty. n the midst of pain and suffering he saw the nobility of the human heart. He saw it, and he burned with a desire to make others see it."
Van Gogh affirms, "It is all here: immerse yourself in living life to the fullest".
In our small group discussions, we reflected on the following questions:
Is there a particular colour you associate with your own work and life in this season?
What is the current mix of light and shade in your work and life at present?
Where do you find light and life – or glimpses of comfort and joy – in the midst of your work?
The session was extremely well received by participants, valuing, among other things, "the gentle pace of the event – very helpful in a busy day, and I felt that we were not at all rushed in looking at the art. The comments about things to spot in the paintings were helpful." Someone else said, "I found it very healing"; another person valued, "a wonderful new light on some familiar paintings – perfect for a Zoom talk"; someone else found the session nourished both her and her work, recognising that her afternoon's work would be "richer than it would have been without this session". Thank you, Becky and Gillian, for a wonderful session – it was such a gift that someone commented, "It feels like Christmas"! And another feedback comment recognised, "To have achieved so much in one small hour is incredible. I felt quite different from the experience of it."
Finally, some illuminating comments from City Women, after our Van Gogh encounter:
"Not on the edge of madness but on the edge of wonder."
"When he found light he was able to increase and enhance it."
"That there is more light than we realise even in the darkness."
"How very colourful our lives are already."
"It was interesting to see the themes of light and faith through his work which were new for me!"
"Light and shade contrasted with working from home – the solitary woman at her desk versus the Potato Pickers all together in the light."
"I wonder if today he would be seen as a HSP highly sensitive person."
If all this whets your appetite to see a Van Gogh painting "in person", you need go no further than Birmingham University's Barber Institute B15 2TS – entrance is free, although booking is essential. Aptly, the painting of a woman working: "A Peasant Woman Digging" is in the Blue Gallery.
If you'd like to receive details of future Creative Quiet Mornings run by Gillian and Becky, please email glever@btinternet.com.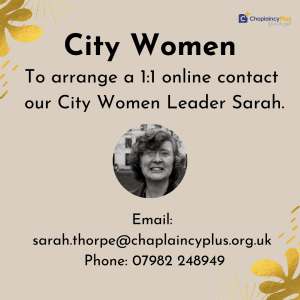 And as always, if there's anything emerging from this (or more generally) that you'd value the chance to talk through, there's an open invitation to arrange a 1:1 meeting, now or at any stage: just get in touch and we can put something in the diary.
[/et_pb_text][/et_pb_column][/et_pb_row][/et_pb_section]