We have an exciting update! We are delighted to announce the appointment of Tim Skene as our Project Lead for the Birmingham Wellbeing Alliance (BWA). This is the new name for what we had been calling the 'City Wellbeing Initiative' as we felt that this name better reflects the focus on Birmingham, and our collaborative approach to working with businesses across the city.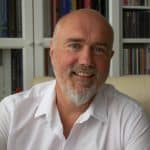 About Tim
Tim has led, managed and mentored people for 25 years and is passionate about seeing them gain greater confidence in their performance and workplace leadership. Tim holds an economics degree and has experience in commodities and financial administration. He has also held various senior positions in charities. Tim has been part of the ChaplaincyPlus Christian Business Network for a number of years.
Alongside his new role at ChaplaincyPlus, Tim is a life coach in the financial sector, supporting senior managers to prosper in the workplace and at home. After operating within highly stressful work environments that affected his own career and personal relationships, Tim now offers coaching strategies that minimise stress and encourage a better work/life balance.
We are excited about the skills and experience Tim will bring to ChaplaincyPlus and the Birmingham Wellbeing Alliance.

Could you help us spread the word about Birmingham Wellbeing Alliance?
Tim is looking to start speaking to businesses of all sizes about joining the BWA and would really appreciate a chat with the person who leads wellbeing in your organisation – CAN YOU CONNECT THEM UP? Please do drop Tim a line to welcome him and point him in the right direction… He can supply you with more details of what's on offer for member businesses for you to use in an introductory email – tim.skene@chaplaincyplus.org.uk.
[/et_pb_text][/et_pb_column][/et_pb_row][/et_pb_section]