Walking Well in 2021
With all that is changing around us at work – reshaped by the pandemic, Brexit and other factors – what adjustments do I need to make to keep patterns sustainable?  Our most recent City Women session offered the opportunity to take stock, exploring a framework for intentional change to help navigate a path forwards in 2021.
Our session with led by Sue Iqbal, a director of Forward Partnership.  Sue is a Birmingham-based Leadership and Life Coach. She has over thirty years' experience in education and leadership and she has also worked within public health, co-ordinating multi-agency policy development. Sue works with schools, charities, churches and faith communities, specialising in coaching leaders and facilitating senior teams, enabling leaders to renew vision and establish strategic direction.
Sue began by asking "Where are you walking and how is that feeling?".  There are a range of feelings, as we find a way through the pandemic – from vulnerability, uncertainty and stress to appreciation of the natural world or sustaining relationships.  Turning to "Where would you like to walk this year?", in a time of change and uncertainty it may help to focus on specific changes that are within our control.
Richard Boyatzis, author of "Helping People Change: Coaching with Compassion for Lifelong Learning and Growth", offers a model of intentional, lasting change involving five steps:
Discover your ideal self.
Discover your real self.
Create your learning agenda.
Experiment with and practice new habits.
Get support.
Sue led City Women on a guided reflection, applying Boyatzis's model to a specific change, before giving time to discuss the process in small groups.
If you would like to catch this session, you can watch the recording below:
Feedback affirmed that the session was "excellent and very timely", giving "practical tips that can be put into practice" – with a plan to use the tools that Sue shared. People also appreciated the small group discussion and the warmth and empathy of the group.
Sue Iqbal's contact details are: sue@forwardpartnership.org.uk  and 07980 672880.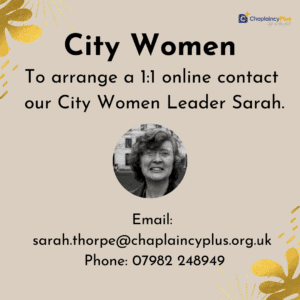 If you would like to discuss this in a 1:1 conversation online, you are welcome to contact Sarah Thorpe, City Women leader, via email or phone.