Building community is so important to our wellbeing and our continued development. This development takes place in shaping both our individual and group identities. The lockdown has had an enormous impact on the wellbeing and identity of many people around the world; it has disrupted our built-in social interactions and identities, and – for many – has intensified existing mental health struggles or brought new challenges. We don't realise the importance of meeting in person until we are no longer able to do so.
City Vibes is an incredible community of 20's and 30's Christians based in Birmingham who support each other in faith and life, seeing one another grow and live life to the full. This sense of belonging has been especially vital during lockdown. I am incredibly thankful for the City Vibes community who make my role as coordinator very simple and enjoyable. The amazing thing is, during the lockdown period we have grown in number and seen people from all over the UK and the world join us! The WhatsApp group has been a key way of building community and supporting each other – creating a sense of belonging.
As well as online events we have also been able to organise some in-person gatherings as restrictions have eased. The steering group have had to think and plan creatively for these events, such as what happens if the weather takes a turn for the worst? How do we maintain restriction guidelines sensitively? And how will people gel together in person after only connecting online?
People have showed up (despite the weather at times), and though many of us have never met in person, it wasn't obvious at all. It was simply a group of friends who were coming together to hang out, celebrate life together, and make the most of what we have. Naturally we've faced some challenges along the way, such as finding public toilets when none seem to be open, and pinning down an exact meeting location in a huge park. But with each challenge, it only presented an opportunity for the community to come together and grow together as we problem-solved.
We've gone from going to Lickey Hills in the snow and enjoying a snowball fight, to wandering through the nature of Moseley Bog and enjoying the culture of Moseley high street, to being amazed at the size of Sandwell Valley Country Park and simply enjoying the sunshine together. Each event has been a great chance to spend time together and enjoy life as we're able to and within the restricted group numbers. There are many events yet to come and opportunities to meet in-person, particularly as restrictions are lifted. The opportunities to get to know one another more richly and have fun together have been priceless. Ultimately, City Vibes has become a group of friends who long to support and be supported by one another, and meeting in person has only deepened that opportunity and sense of belonging together.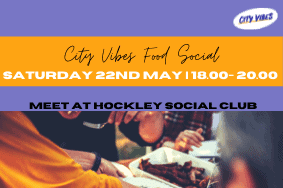 Our next in-person social will be at the Hockley Social Club, 5:45pm on Saturday 22nd May. If you're a foodie and want to join us for this event, contact Nathanael, our City Vibes Coordinator.
If you would like know more about City Vibes, upcoming events, or how to be part of the community on WhatsApp, please email me on nathanael.fittro@chaplaincyplus.org.uk. You can also find us on social media – check out the City Vibes Facebook or MeetUp pages.
Nathanael Fittro – City Vibes Coordinator