Virtual Event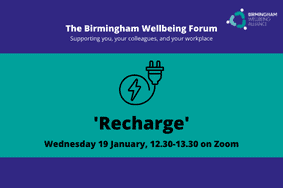 January Wellbeing Forum
19 January @ 12:30 pm

-

1:30 pm

Virtual Event

Free – £20.00
Come and join us as we continue to care for our wellbeing and that of our colleagues.
The 'Wellbeing Forum: Supporting Wellbeing Champions' is the first element of ChaplaincyPlus's Birmingham Wellbeing Alliance to launch in the Birmingham business community. The forum gives wellbeing champions the opportunity to reflect, learn, and talk with others.
Join us on Wednesday 19 January at 12.30-13.30 on Zoom as we explore the topic of 'Recharge: Central to our Wellbeing'.
Our facilitators:
TIM SKENE is a life coach in the financial sector, supporting senior managers. He has led, managed and mentored people for 25 years and is passionate about seeing them gain greater confidence in their performance and workplace leadership. Tim is the new 'Project Lead' for the Birmingham Wellbeing Alliance, supporting wellbeing and wellbeing champions in the Birmingham business community.
STEVE BAVINGTON is the Executive Director of ChaplaincyPlus. Steve has a business background, working in Sales and Marketing for 12 years before moving across to the Charity sector. He is also an External Wellbeing Champion in two local businesses and is developing the Birmingham Wellbeing Alliance to support all Birmingham businesses with their employee wellbeing offer over the coming years.
FREE, WITH AN OPPORTUNITY TO DONATE TO C+: There will be no charge for the event. However, ChaplaincyPlus relies on donations to deliver our vision to help people encounter the depth dimension of faith and life, so we are giving those who choose to do so the opportunity to support ChaplaincyPlus with a donation, when booking a place for this event, to enable our work to remain open to all.