Virtual Event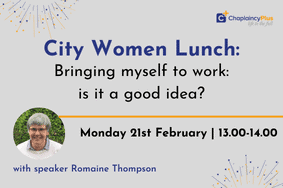 City Women Virtual Lunch: Bringing myself to work
21 February @ 1:00 pm

-

2:00 pm

Virtual Event

Free – £15.00
What happens at City Women Virtual Lunches?
Our City Women Virtual Lunches give an opportunity to listen to, support and encourage, one another – they provide an open discussion forum for all participants. You are welcome to join our informal lunchtime conversation, sharing your own perspectives and checking in with other City Women.
February City Women Virtual Lunch – "Bringing myself to work – is that a good idea?". 
In line with City Women feedback, we're giving more time to discuss the issues we focused on for our most recent City Women lunch in January.  Why do we struggle so much to compartmentalise our lives? Why do we try to cultivate an 'at work persona' which bears little, if any, resemblance to who we really are? Is it possible to bring the real me to work and still to 'succeed'? And how has this been impacted by the experience of working from home through the pandemic?
Romaine Thompson
will be with us for our Virtual Lunch and she led our January City Women lunch.  Romaine worked as a lawyer in Birmingham city centre for 30 years until she retired from legal practice in 2016. Whilst she was a partner for the bulk of those years her biggest challenge (and her greatest reward) came as she served for almost 10 years as senior partner of Anthony Collins Solicitors LLP. She knows first-hand what it's really like to be a leader both in the ordinary run of the mill routine and in extraordinarily challenging times. And throughout her working life she has grappled with the challenge of bringing herself to her work: she'll be sharing some of her experiences to unpack whether or not it's really a good idea at all!
Practicalities
This event will be accessible to Christians of all denominations and to women of all faiths and none.
If you we at the City Women lunch on 17 January, or you have listened to Romaine Thompson's talk via the website, our conversation can build on that.
Even if you haven't had a chance to listen to Romaine, you are most welcome to come and join our conversation on "Bringing myself to work: Is that a good idea?"
The Zoom link will be circulated ahead of the event.
Free, with an opportunity to donate to ChaplaincyPlus:
There will be no charge for the event. However, ChaplaincyPlus relies on donations to deliver our vision to help people encounter the depth dimension of faith and life, so we are giving those who choose to do so the opportunity to support ChaplaincyPlus with a donation, when booking a place for this event, to enable our work to remain open to all.